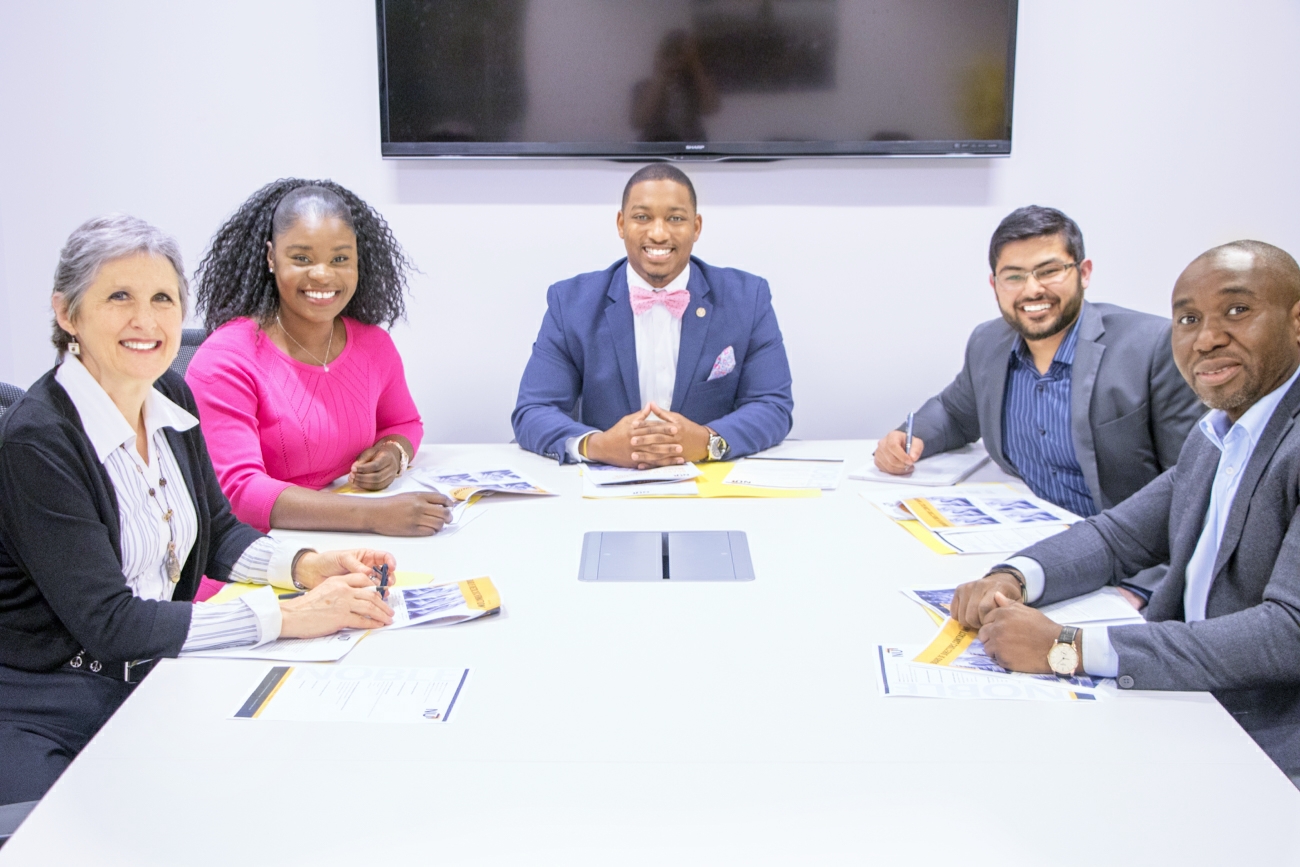 A COMMUNITY OF INDIVIDUALS COMMITTED TO CHANGING THE WAY THE WORLD TACKLES POVERTY AND HOMELESSNESS
Dr. Damien Robinson, Chairman
Dr. Damien Robinson is the Assistant Director of the Achieving Collegiate Excellence and Success Program (ACES). ACES is Montgomery College's flagship college pathways program. Before coming to the ACES Program, he served as Director of Special Education at Orchard School District. He has devoted his life to creating opportunities for underrepresented students to earn a college degree and become productive citizens in society.
In 2013, he created DMRC & Associates Education Consulting. Through his firm, he works with institutions and organizations to create, implement and evaluate academic support programs. Dr. Robinson holds a B.S. in Psychology from Howard University, M.A. in Counseling from San Diego State University and an Ed.D in Education Leadership from San Francisco State University.
Rebecca Razavi, Partnership Director
Rebecca Razavi is the Program Director of the Hillman Entrepreneurs Program at Montgomery College. Ms. Razavi served as an independent consultant for 20+ years for both federal and private clients in the fields of health promotion and addiction and adjunct English faculty for 6 years. In addition, she also served as facilitator for Future Link (a career development program for aspiring students), instructor in Business Communication at the University of Phoenix, Technical Assistance Coordinator for the Center for Substance Abuse Prevention, faculty advisor for a student-run newspaper, literacy instructor and community service coordinator for the Gateway to College Program, and fellow with the Smithsonian Faculty Fellowship Program.
Ms. Razavi received a B.A. in English from Goucher College and an M.A. in the Writing Seminars Program at Johns Hopkins University. She also received her MBA from the University of Maryland University College and completed the year-long Leadership Development Institute at Montgomery College. She plans to begin work on her Doctor of Education in the Fall of 2018.
Iddi Sandaly, CPA, MBA, Treasurer
Iddi Sandaly is a practicing CPA. Mr. Sandaly has worked in various sectors in the financial service industry which include many years of Public Accounting, Consulting, Taxation, financial management, and Insurance. Iddi holds a Master in Business Administration (MBA) Management from Strayer University, Washington, DC, a Bachelor Degree in Accounting from International University Malaysia, Kuala Lumpur, Malaysia.
He is also a Certified Public Accountant (CPA) as well as a Chartered Global Management Accountant (CGMA). Iddi Sandaly is the founder of HEAD, INC, a nonprofit which provides medical missions to Tanzania. He currently serves as a Board member of various nonprofit organizations and he is the former president of Tanzanian Community in the Washington DC metropolitan area.
Dewan Kazmi, Administrator
Dewan is a recent UMD graduate, currently working for WeddingWire.com. He has previous experience on social enterprise projects through his board membership on Enactus UMD and active involvement with Annie's Children. Dewan joined the board of Noble Uprising to help fulfill its mission of providing sustainable change in our communities through the education and training
L. Audrey Awasom, Coordinator
Lumnwi Audrey Awasom is a Marketing major and Technology Entrepreneurship minor at the University of Maryland's Robert H Smith School of Business. As a Smith student, Audrey sits on the Dean's Student Advisory Council where she serves as a liaison between students and the university's leadership to ensure that there is a constant enhancement of programs, classes, and procedures at Smith USG. She is a project leader at the UMD Enactus chapter and a Hillman Entrepreneur Scholar. Audrey has experience consulting for Non-Profit organizations through the Consulting Fellows program at UMD and is also a student representative for the USG student council.
Audrey began her pursuit for serving others when she co-founded a socially responsible project her sophomore year of college called the One Heart Project. The One Heart Project, which served as a pilot for Noble Uprising, was successfully able to positively impact over 50 women experiencing homelessness in Montgomery Avenue Women's Center. Through the success of the One Heart Project, Noble Uprising was created to ensure continued positive impact for women experiencing homelessness in the community.